Choosing a Static Website Generator: Hugo vs. Jekyll
What are static websites?
In simple terms, static websites are a collection of webpages that have fixed content. They are the most basic type of website and are typically considered the easiest to create.
These websites are considered the easiest to create because they have a low barrier of entry. They usually are not connected to a backend or a database, so the only thing that you need to manage is the frontend.
Given that information, static websites look essentially the same for all users (because you wouldn't have user data to customize their experience). User data, like emails and password digests, need a database for storage and are considered unsafe to store in the frontend.
Why pick a static website over a 'regular', dynamic website?
Although static websites are cool and all, why should one choose them over dynamic (a.k.a. full-stack) websites? Here are the advantages that a static website holds over a dynamic one (generally speaking):
When should I choose a static website over a dynamic one?
You should pick to choose a static website if your website doesn't allow users to make POST, PUT, PATCH, CONNECT or DELETE HTTP requests. In other words, you should probably choose to use a static website if your users are not going to modify any of your website's data.
What are static website generators?
Static website generators are exactly what they sound like. They're automated processes that help you produce static websites. These technologies differentiate themselves in different ways. But the main two differentiating themes are typically speed and customization.
Picking a static website generator
Here's a list of the most popular static site generators. Currently, the top three are Next.js, Hugo, and Nuxt.js. Gatsby.js is a pretty popular one too.
Today, we're going to be talking about Jekyll and Hugo, how they differ, and why you may choose one over the other. But before we go on, you may be wondering: why are we not looking at something like Next or Nuxt since they're so popular? Well, although these technologies are great, I've decided to avoid writing about them due to a few reasons, including the following:
Hugo vs. Jekyll: Style (themes)
You can pick a theme to build your website (rather than building it from scratch). Most themes are free and open-sourced. There are plenty of themes to choose from in both technologies.
Popular themes are sometimes available under both technologies. So if you see a theme that you like with one technology, I would suggest searching for it in the other. Here are links to theme pages for each:
Hugo vs. Jekyll: Speed
One of the main differences between Hugo and Jekyll is their speed. Looking at this benchmarking test, it is said that Hugo is "… between 23 and 63 times faster than Jekyll" (Macrae, 2018) in terms of build time. This becomes more apparent as the number of pages grows. Here's a graph demonstrating the difference: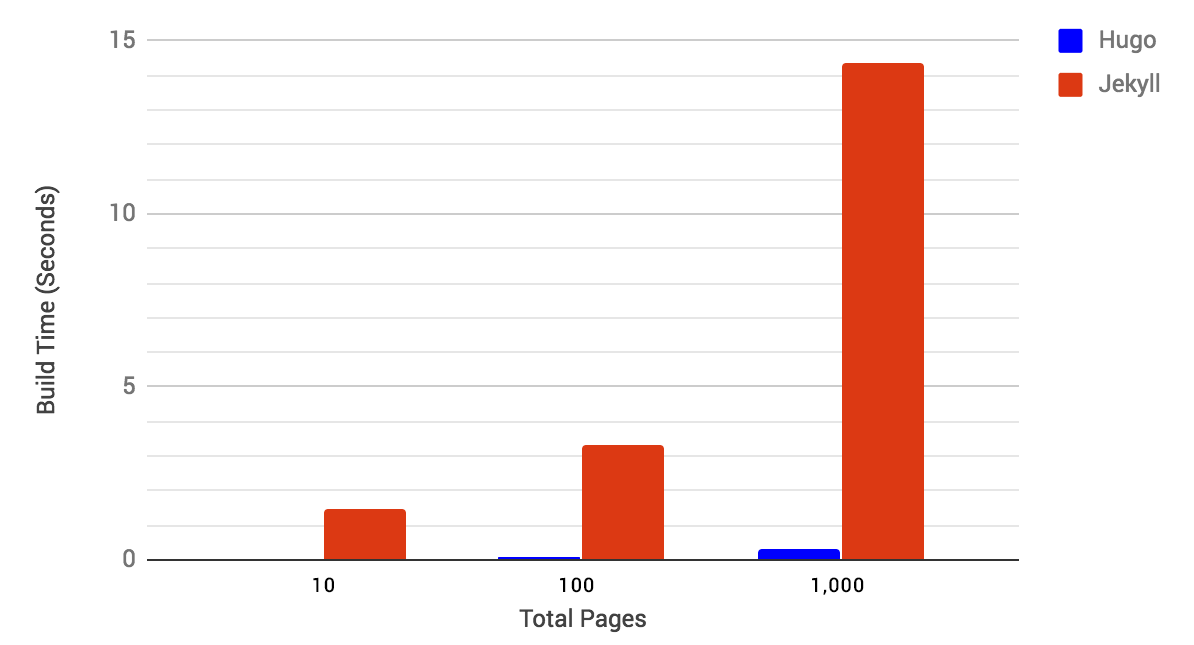 Hugo vs. Jekyll: The learning curve
It may be important to note that according to this report by Hired.com, programmers experienced with Go had the most interview requests on their platform (in 2019). Here's a graph demonstrating this further: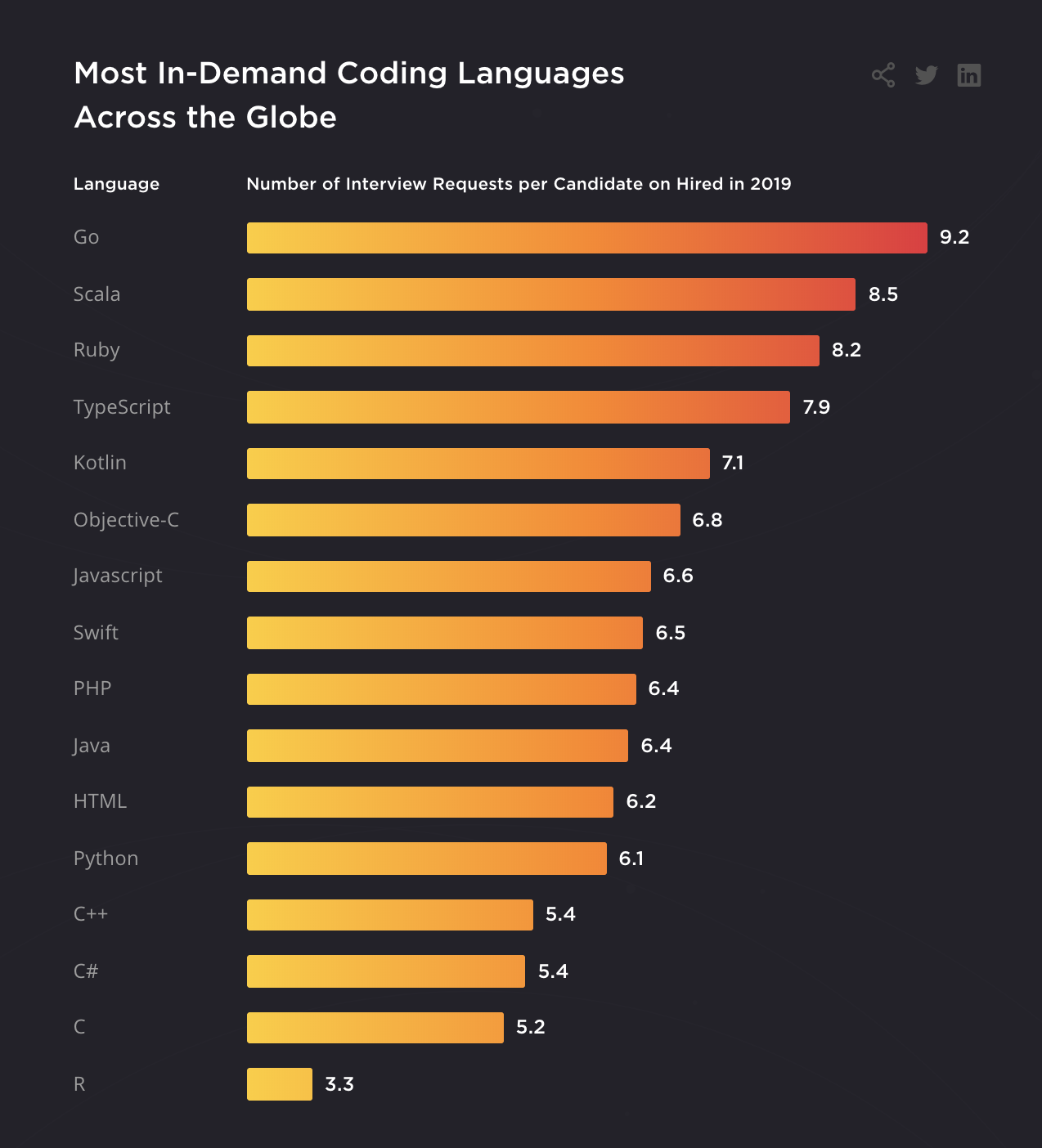 So if you are currently looking for a job (like I am), it may be worth it to look into Go, and how it may help you grow as a programmer. In case you do want to check it out, I think going through this interactive tutorial provided by the language's official website may be a good way to start.
Hugo vs. Jekyll: When to use what
If you want to look at an even deeper comparison of the two technologies, I recommend this article by Forestry.io.
---
Like what you're seeing? Subscribe below to recieve notifications of new posts ⬇️
Promise not to send more than 1 email per month (not counting subscription confirmation email) 👨‍💻
---
Updated: 30 March, 2021
Created: 23 March, 2020
comments powered by

Disqus